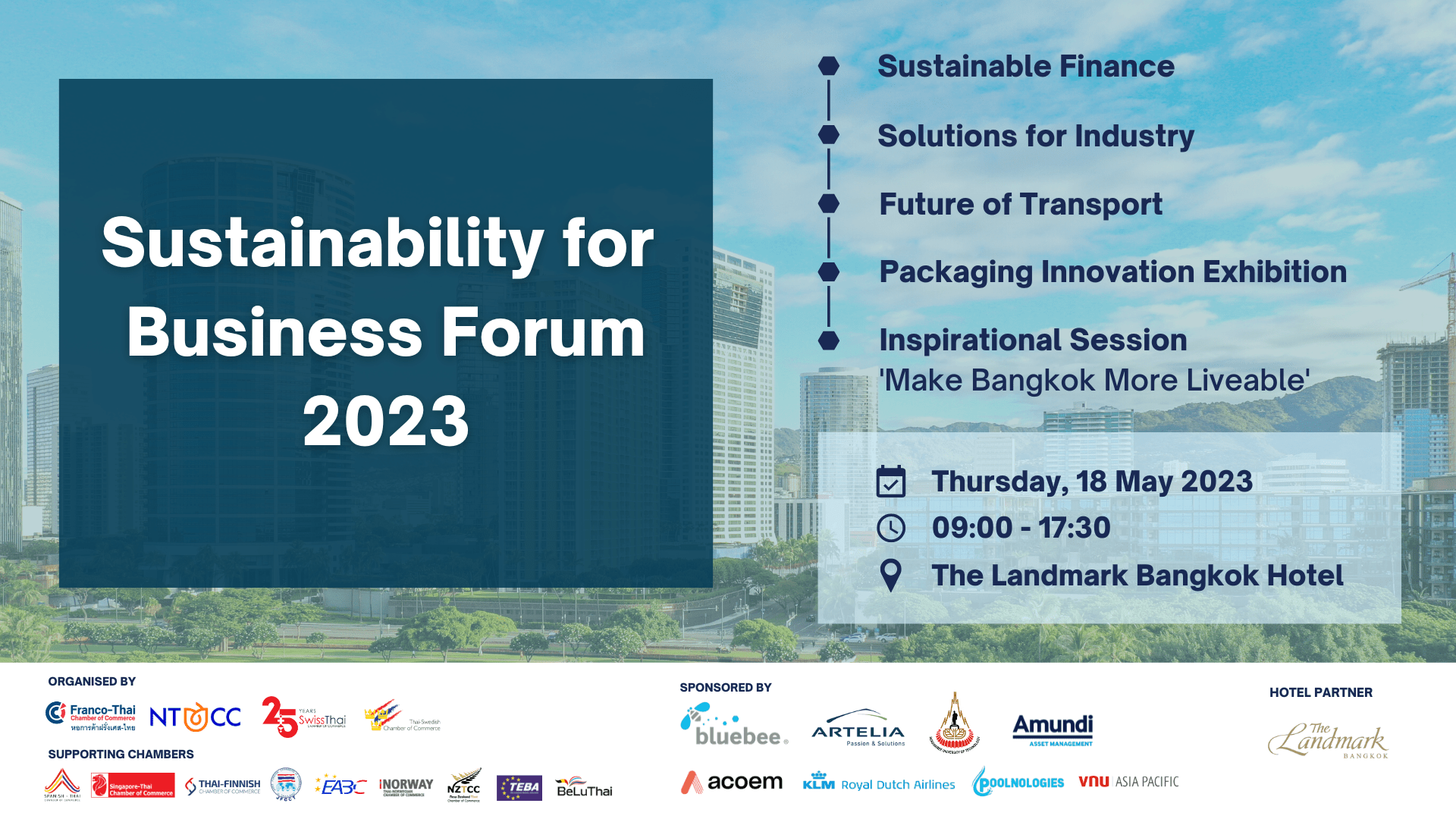 Co-Event| Sustainability for Business Forum (SBF) 2023
Sustainability for Business Forum (SBF) 2023 is co-organised by the Thai-Swedish Chamber of Commerce (SweCham), Franco-Thai Chamber of Commerce (FTCC), Netherlands-Thai Chamber of Commerce (NTCC), and Swiss-Thai Chamber of Commerce (STCC).  We proudly present the 6th edition of SBF, which will take place on 18 May 2023 at the new venue, The Landmark Bangkok.
We always look for an opportunity to shed the light on business practitioners who have created business value while improving their impact on people and the planet.  This business forum not only connects the relevant sustainability potential partners and services but also inspires the audience with the leading sustainable initiatives and projects in Asia.  We empower businesses with innovative and effective strategies driven by economic, environmental, and social performances.
In 2023, we have 5 sessions:
1. Sustainable Finance; 
2. Solutions for Industry;
3. Future of Transport;
4. Make Bangkok More Liveable, inspirational session for sustainable entrepreneurs to present and share their innovative ideas, and
5. CEO Panel in which 3-4 CEOs or executives from regional and global companies have implemented sustainability transversely through their business organisation, infrastructure, operations, supply chain, and other aspects.
EVENT DETAILS:
Date: Thursday 18 May 2023
Time: 9.00-17.30 hrs.
Venue: The Landmark Bangkok
Entrance Fee:
THB 1,300 for Co-branded Chambers members
THB 1,800 for Non-members
(This price includes lunch, coffee/tea/juice break)